Harry Scotts Vineyard
Regular price
$155.00 USD
Regular price
$275.00 USD
Sale price
$155.00 USD
Unit price
per
Sale
Sold out
After our 2019 and 2020 Pinot Noir sold out, we are very excited to release our 2021 Harry Scotts Pinot Noir.
2021 Harry Scotts Pinot Noir

The 2021 Harry Scotts Pinot Noir is our most popular wine. We grow the grapes solely at our vineyard in Bannockburn, Victoria (as we do for all of our wines) which is known for its perfect Pinot Noir climate of hot summer days and cool evenings. Our previous Pinot Noir vintages have sold out. 

The 2021 Harry Scotts Pinot Noir has a silky mouth feel with notes of red cherry and currants. Our vineyard's limestone and red dirt bed also contribute with reported earthy notes and a small hint of clove.
We have served this wine slightly chilled at 15 degrees for enormous enjoyment in Spring and have also served at room temperature and well aerated to enjoy it as well.
This wine is our most versatile so is particular popular when serving food with many different flavours. Our favourite dish to pair this with is a grilled salmon pasta.
Share
View full details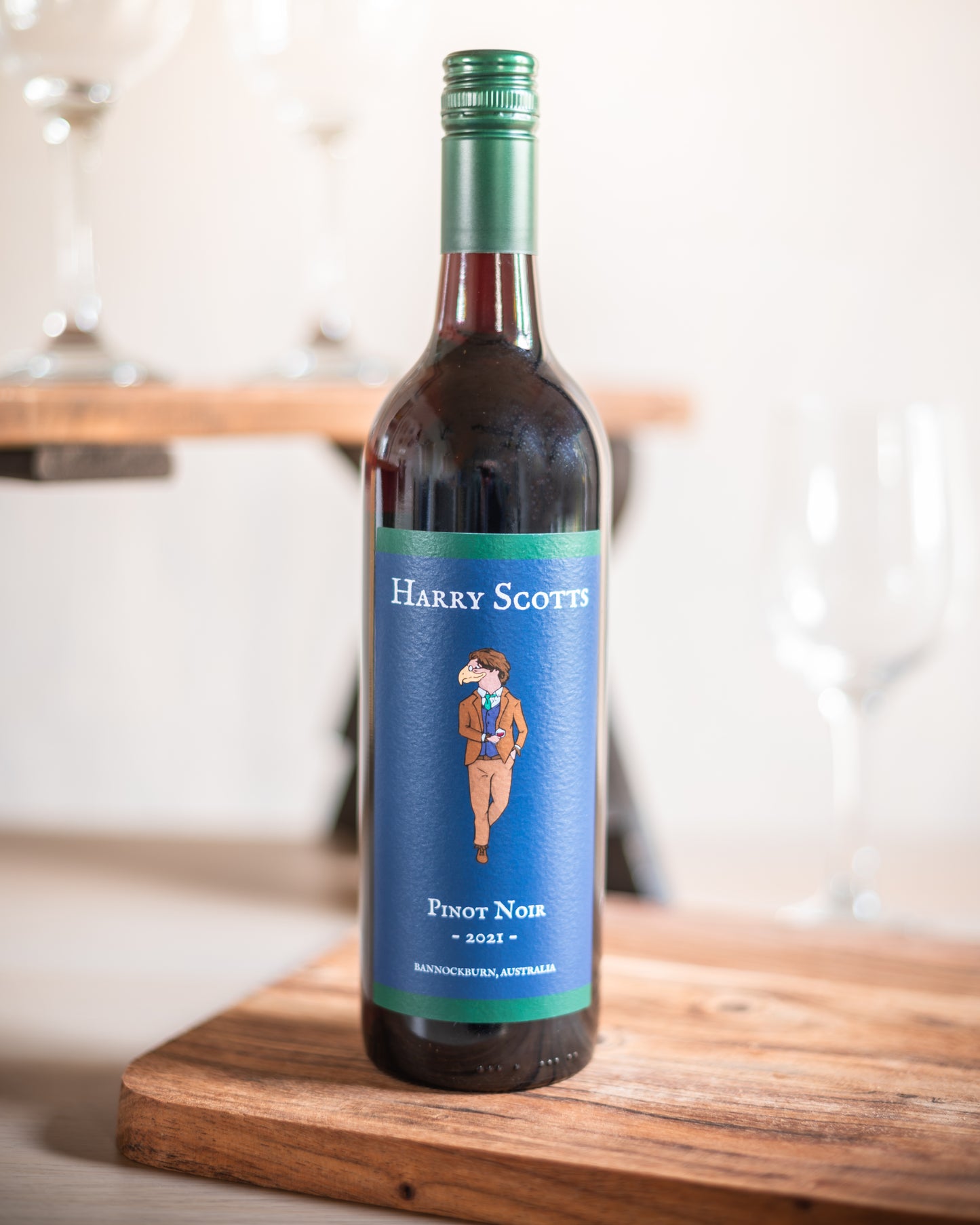 Commonly Asked Questions
Do you make your wine solely from your own grapes from your own vineyard ?
Where is Harry Scotts Vineyard located ?

We are located on Russells Bridge Road in Russells Bridge, Bannockburn, Victoria, Australia.
Do you have a cellar door ?

No, we do not as we converted our cellar door into a bar and cabin for our accomodation guests. Click on The Farmhouse for more information.