Harry Scotts Vineyard
Regular price
$128.00 USD
Regular price
$275.00 USD
Sale price
$128.00 USD
Unit price
per
Sale
Sold out
With The Harry Scotts Premium Dozen, you get to choose your own selection of wines, ensuring that each bottle perfectly suits your tastes and preferences. From rich and full-bodied reds to crisp and refreshing white, we have a wine for every occasion and palate.
And the best part? For a limited time, we are offering this exclusive choose your own dozen deal at an unbeatable price of just $189, which works out to only $15.75 per bottle. Plus, we are including free courier shipping with every order, so you can enjoy your wines without having to worry about any extra costs.
Whether you're a seasoned wine connoisseur or just starting to explore the world of wine, Harry Scotts Dozen is the perfect choice. Order now and experience the unparalleled quality and taste of our exceptional wines.
Read Carefully: Due to limited quantities, you can include up to 6 2021 Harry Scotts Pinot Noir in this order. To order full case of Pinot Noir, visit here or visit our Harry's Club page and become a member to access best price. 
2021 Harry Scotts Pinot Noir (max 6)
2021 Harry Scotts Pinot Gris
2019 Harry Scotts Shiraz 
2019 Harry Scotts Cabernet Sauvignon 
2019 Harry Scotts Pinot Gris 
Share
View full details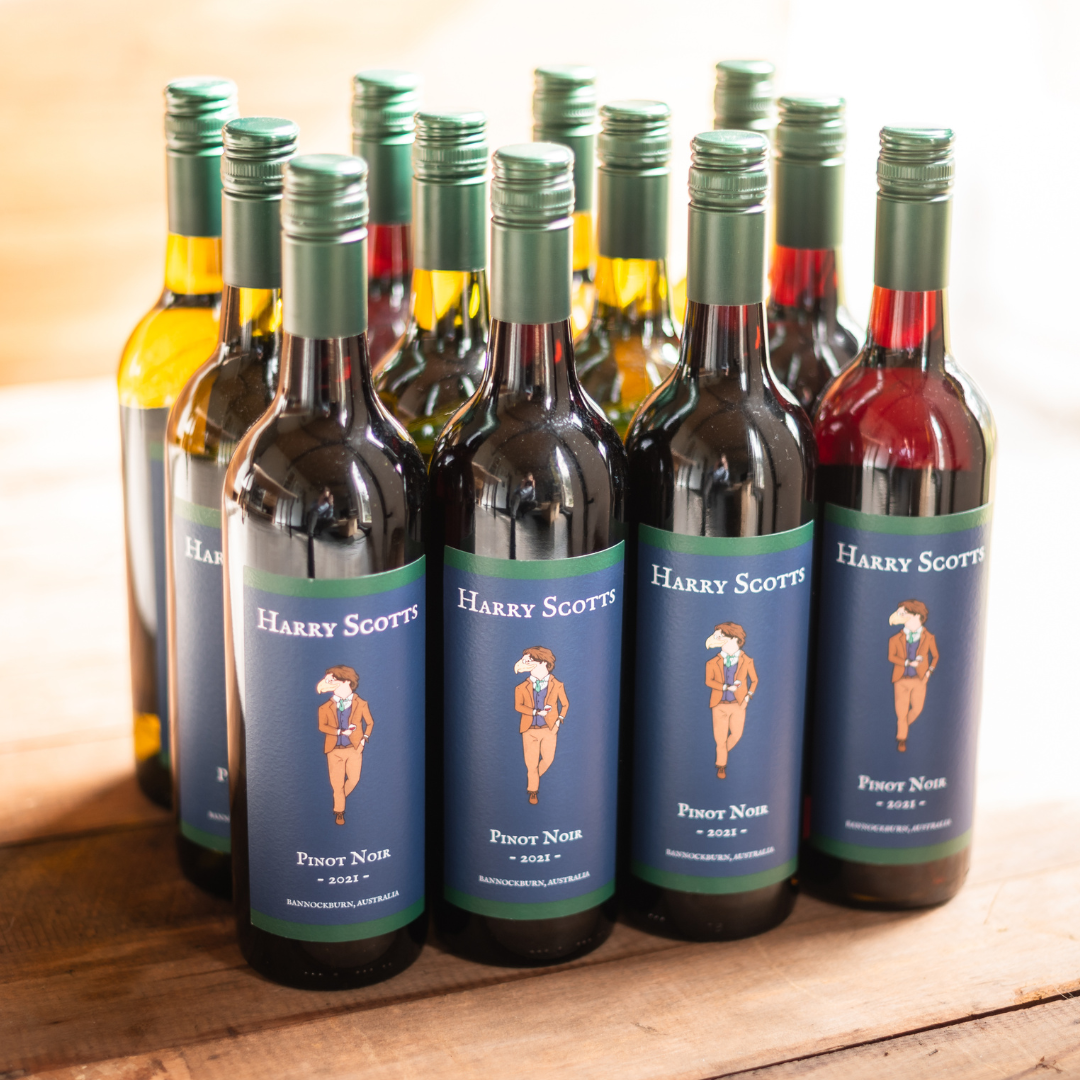 Commonly Asked Questions
Do you make your wine solely from your own grapes from your own vineyard ?
Where is Harry Scotts Vineyard located ?

We are located on Russells Bridge Road in Russells Bridge, Bannockburn, Victoria, Australia.
Do you have a cellar door ?

No, we do not as we converted our cellar door into a bar and cabin for our accomodation guests. Click on The Farmhouse for more information.